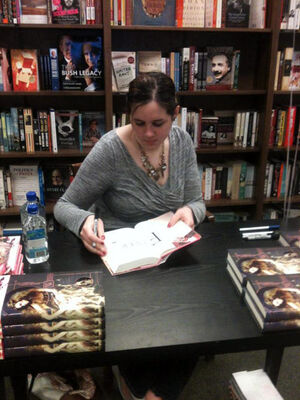 Lauren DeStefano is the bestselling author of The Chemical Garden Book Series.
Background
Edit
Lauren DeStefano was born in New Haven, Connecticut and has never traveled far from the east coast. She received a BA in English from Albertus Magnus College, and has been writing since childhood. She made her authorial debut by writing on the back of children's menus at restaurants and filling up the notepads in her mom's purse. Her very first manuscript was written on a yellow legal pad with red pen, and it was about a haunted shed that ate small children.
Now, she writes fiction for young adults. Her failed career aspirations include: "world's worst receptionist, coffee house barista, sympathetic tax collector, and English tutor" (according to her website). When she isn't writing, she's screaming obscenities at her Nintendo DS, freaking her cats out with the laser pen, or rescuing thrift store finds and reconstructing them into killer new outfits.